Goat - Multi-purpose Discord Bot
---
Home
---
Goat Bot Listings
The Goat bot and his support server are listed on a number of Discord bot lists.
on most bot lists, you can vote for Goat and his support server to help increase his popularity.
Bot lists
Click the links below to visit the Goat bot listings.
Goat Support Server
The following listings are for the Goat support server.
Goat Bot
The following listings are for the Goat bot.
Top.gg
Discord.bots.gg
Discords.com
Blist.xyz
Discordextremelist.xyz
Discordservices.net
Discordlabs.org
Fateslist.xyz
Bladelist.gg
Yabl.xyz
Motiondevelopment.top
Listcord.gg
Botlist.me
Discordbotlist.com
Discordbotlist.eu
Disforge.com
Radarbotdirectory.xyz
Discordlist.space
Stellarbotlist.com
Rovelstars.com
Consteagle.com
Information
We will update this list periodically as new listings become available.
---
Support
Get support for Goat on the official Goat bot - Support Server.
---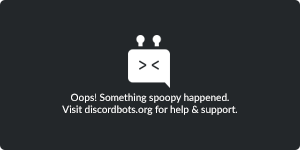 ---
---
© Goat - Administration Bot by CodeGoat