Goat - Multi-purpose Discord Bot
---
Home
---
Goat statistics
This information shows how Goat and his server were running at the time this page was rendered.
Stats generated at: 2021-10-16 - 19:12:55 - Europe/London
Statistics
Goat statistics
Goat version: 2.3.0
Developer: CodeGoat
Global prefix: g!
Total commands: 164
Total servers: 57
Total channels: 2195
Total users: 173755
Discord.js library version: 13.2.0
Platform: win32
Current date/time: Sat Oct 16 2021 19:12:54 GMT+0100 (British Summer Time)
CPU cores: 4 Cores
Current CPU usage: 1.55%
Total memory: 11966.54MB
Current memory usage: 2288.27/11966.54MB
Memory usage (Percent): 19.12%
Memory in use by Goat: 171.90MB/11966.54MB
Goat ping time: 106ms
Goat uptime: 00d 09h 09m 39.5s
---
Support
Get support for Goat on the official Goat bot - Support Server.
---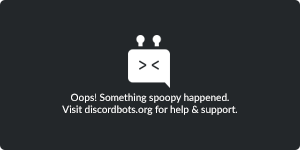 ---
---
© Goat - Administration Bot by CodeGoat